Our Mission Is To Create Positive Self Esteem Through Happy Smiles!
Some of the ways we can help you and your family…
Children & Teen
Orthodontics
Bring your child in by age 7 for early evaluation and treatment – also enjoy advanced braces options for both children and teens including clear braces, self-ligating braces, and clear aligners with Invisalign Teen!
Free Ortho
Consultation
Get familiar with our practice and learn about your orthodontic treatment options with no out-of-pocket expense to you – and with no obligation!
Advanced
Technology
Providing Digital X-Rays & Cone Beam Technology. No more goopy impressions!
Flexible
Financing
We believe cost should never come between you and receiving the dental care you need – call us today to learn about our 0% interest payment options.
Invisalign
Invisible Braces
Straighten your smile discreetly and in less time with revolutionary Invisalign treatment. The custom-fitted clear aligners are comfortable and removable so you can achieve your best smile with optimal oral health!
​Join the Over 10,000 Smiles Transformed at Fryar Orthodontics
Contact Us
La Porte, IN, Orthodontic Office
1700 A Street
La Porte, IN 46350
Phone: 219-362-5500
Office Hours:
Monday: 8:00 AM – 5:00 PM
Tuesday: 7:00 AM – 5:00 PM
Thursday: 8:00 AM – 5:00 PM
Michigan City, IN, Orthodontic Office
1200 E. Coolspring Ave.
Michigan City, IN 46360
Phone: 219-872-9200
Office Hours:
Monday: 8:00 AM – 5:00 PM
Wednesday: 8:00 AM – 5:00 PM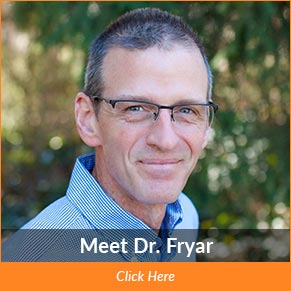 *Please do not submit any Protected Health Information (PHI). This is not a secure or encrypted means of communicating with our orthodontic offices.
The Top 10 Things To Know Before Choosing Your Orthodontist
If you are researching for the most qualified and caring orthodontist in La Porte, IN & Michigan City, IN, for yourself, your child, or a loved one, you're in the right place at Fryar Orthodontics! Just like every mouth is different, every orthodontic office is different. For help with your research, download Dr. Fryar's free report.
As one of the premier orthodontic practices in La Porte, IN, our doctor and team at Fryar Orthodontics also provide 5-star orthodontic care to patients from Michigan City, Chesterton, Knox & North Judson, IN & New Buffalo, MI, and surrounding areas.